My Life's Journey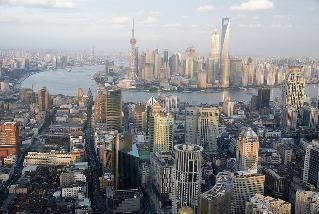 I grew up in Shanghai,China. Yes, Shanghai is a real city. You may have seen movies by that name. It is the most populous city in China with over 20 million people, and is one of the largest metropolitan cities in the world. Shanghai is to China as New York is to the United States. Shanghai has some interesting history. Before 1949 when the new China was established, Shanghai was called the "Paris of the East". It was the financial center of Asia and a major world port. Most parts of Shanghai at that time were colonized by the British, French,and Americans. Some of the architecture you see today, such as high rise reflects the French, British and American styles. In the 1920s Shanghai was said to have "the grandest cathedral in the Far East" which was built by missionaries. It could accommodate 2,500 worshipers at the same time. Today Shanghai is an international city characterized by its financial market, high technology, and high fashion. It is also the most modern and chic city in China.

Have you heard the story about the man who liked to eat so much that he decided to be a cook ? So, he could stay in the kitchen everyday cooking and eating. When I was young, I was sick so much that I wanted to become a doctor or healer to heal myself. Actually neither of my parents were doctors. My dad was a famous journalist, and my mother is a biologist. What brought me to medicine was myself. I was born premature and was a weak and sick kid. I was so sick that I was a regular young patient at the ER, hospital and doctor's clinic. We basically could go to the big hospitals and clinics by public transportation or by walking a short distance. Mostly I had colds, flu, allergies, and asthma. Although I was lucky not to have had any life threatening diseases. I still was sick very often. I still recall whenever I got to the hospitals or clinics, some doctors and many nurses could even remember my name. This lasted throughout my boyhood up until late adolescence. My grandmother and my parents took really good care of me. I took a lot of Chinese herbs regularly and ate very healthy. I have had good health since then.

My childhood experience taught me that being sick is no fun at all. My dream was not to save this world but to cure all the diseases in this world. In 1979 I was admitted to the Shanghai University of Traditional Chinese Medicine ,one of the most well-known traditional Chinese medicine university and medical school in China . I had the choice to major in Western medicine or Chinese medicine. I chose Chinese medicine due to my childhood experiences. I also had very severe sinusitis, shingles, and eczema growing up. My parents took me to see Western medicine doctors first. Western medicine did not work for me. Later, they took me to Chinese medicine doctors. I took Chinese herbs and got acupuncture treatments and I was cured. So I became a doctor and my dream came true. I worked in the teaching hospital of my medical school for more than six years before I came to the United States in 1991. I learned from some of the best doctors of traditional Chinese medicine in China and I gained a lot of clinical experience. Most of the time I treated 80 to 100 patients per day, six to seven days a week.

The clinical experience and education I received in China have been invaluable for me. They gave me a much deeper and richer understanding of Traditional Chinese Medicine and prepared me to treat the kinds of difficult cases which I now handle on a daily basis. In China we use a combination of Western medicine and Traditional Chinese Medicine in our hospitals. Western medicine works well for trauma and most of acute cases, but acupuncture works better for chronic conditions and for pain. I think a combination of Western medicine and TCM is still the best for everyone.

In 1992, I taught at the Colorado School of Traditional Chinese Medicine in Denver,Colorado at a time when interest in alternative medicine was just beginning to take hold in the United States. My students were so passionate to learn about Traditional Chinese Medicine that many of them had left their previous careers to study acupuncture. However,when I moved my practice to Dallas, Texas in 1993, I found that the average person still had little or no knowledge about this form of medicine which had been used in China for 5,000 years. Since my clinic was one of only a few acupuncture clinics open at that time, I felt a big responsibility to educate everyone about the marvelous benefits of acupuncture. Many of my patients were desperate and came as a last resort. Most has been suffering for years and had already seen ten to fifteen doctors. For my patients, it was as though they had discovered a treasure chest. Many had spent years searching this kind of help in Western medicine to no avail, now they had found it. Even today, as TCM grows in popularity, I still see more and more of these types of cases. Some patients want to avoid surgery and seek a more natural form of healing. some have already had surgery and many drugs and are still in pain. Some are no longer tolerate the side effects of medications which they have been given, and some have become addicted to them. There are also those who come seeking emotional and physical well-being, and those who are using acupuncture in conjunction with Western medicine, i.e. infertility patients who want to increase their chances of becoming pregnant while undergoing IVF; cancer patients who rely on acupuncture to boost their immune systems, ease their pain, and alleviate toxins resulting from chemotherapy and radiation treatment.

Over the past eighteen years in Dallas, I have treated patients of every age and from all walks of life, including many famous celebrities to average common people. I treat all of them from my heart. I do care a great deal for my patients. My patients are like my big family. I receive many patient referrals from Western doctors and chiropractors on regular basis. Often they send me their most difficult cases to treat, i.e. brain injured patients,stroke patients,Bell's palsy,cancer patients and infertility patients. I like being challenged and I deeply appreciate their utmost confidence in me. Some Western doctors come to see me to treat their own health problems too. I am also so very grateful for my patients who entrust me with the care of their family, friends and co-workers.

I became a doctor but I never forgot that I was a little patient before. I have learned compassion and empathy. I always try to think standing in my patients' shoes to understand their pain and their needs. Besides, while many patients may have the same diagnoses or diseases, each patient is unique and special. I know how important my patients are to me. I strive to do the best for my patients with love, and continue to devote my life to them. My passion is to be a great healer.

________________________________________________________________

"夫君子之行:静以修身,俭以养德;非淡泊无以明志,非宁静无以致远。" - 诸葛亮

"One should seek serenity to cultivate the body, thriftiness to cultivate the morals. Seeking fame and wealth will not lead to noble ideal. Only by seeking serenity will one reach far. "

________________________________________________________________

Two of our greatest enemies in the battle against life-threatening diseases are ignorance and personal beliefs we bring into doctor's office.

We need to discover how a healthy mind influences a healthy body, so that we can stay well, remain active, and get the most out of our life.

________________________________________________________________

When you understand traditional Chinese medicine along the way, you'll discover there are plenty of health issues over which you have a lot of more control than you think.